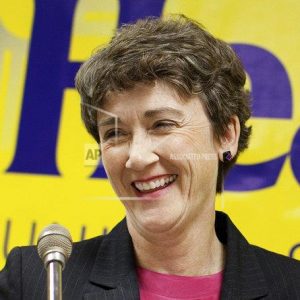 WASHINGTON (AP) — President Donald Trump's pick for Air Force secretary was on track for Senate confirmation on Monday.
Heather Wilson would be Trump's first service secretary nominee to be approved by the Republican-led chamber, after fits and starts for several nominees. Trump's choices for secretaries of the Army and Navy were forced to withdraw from consideration. Mark Green, Trump's second choice for Army secretary, stepped aside late last week amid growing criticism over his remarks about Muslims, and gay, lesbian, bisexual and transgender Americans.
The president's first pick to be the Army's top civilian, Vincent Viola, dropped out in early February because of financial entanglements, and about three weeks later Philip B. Bilden, the Navy secretary nominee, withdrew for similar reasons.
The vote on Wilson was scheduled for late Monday.
The former New Mexico congresswoman faced scrutiny from Democrats during her confirmation hearing before the Armed Services Committee for defense industry consulting work she did after leaving Congress in 2009.
She collected nearly half a million dollars in questionable payments from federally funded nuclear labs, the Energy Department's inspector general said in a 2013 report. Wilson failed to provide documentation for the consulting work she did to earn $20,000 a month from the Los Alamos and Sandia national labs in New Mexico from January 2009 to March 2011, the report said.
Wilson denied any impropriety and said she complied fully with her contract for the consulting services.
Wilson served as an Air Force officer in Europe during the 1980s and was on the National Security Council staff under then-President George H.W. Bush during the fall of the Berlin Wall. She would be would be the first Air Force Academy graduate to serve as Air Force secretary if confirmed by the Senate.
She graduated from the academy in 1982 and later earned masters and doctoral degrees as a Rhodes Scholar at Oxford University in England. She served five terms in Congress, where she was a senior member of the House Energy and Commerce Committee and chaired the House Subcommittee on Technical and Tactical Intelligence. She also served on the House Armed Services Committee.
Wilson said that if confirmed she would resign her current position as president of the South Dakota School of Mines & Technology. She also assured the Defense Department's general counsel that she would divest of stocks she holds in companies that do work for the U.S. military, including Intel, IBM, Honeywell and Raytheon.