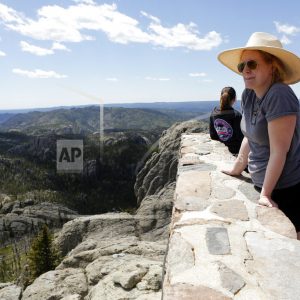 BLACK ELK PEAK, S.D. (AP) — The bond between a famous writer and a Native American holy man has been celebrated with a commemorative hike.
A group of people with the John G. Neihardt State Historic Society in Bancroft, Nebraska, hiked Tuesday on Black Elk Peak with Myron Pourier, a descendant of holy man Black Elk.
Neihardt's book "Black Elk Speaks" recounts Black Elk's childhood story in which he had a vision of being transported to the top of the mountain. The book has sold hundreds of thousands of copies and serves as a window into Lakota Sioux history and spirituality.
Pourier says he hopes to raise money and get approval to place a statue of Black Elk at the beginning of the most popular trail to the peak.