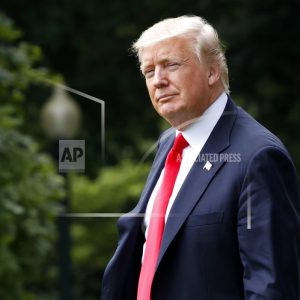 WASHINGTON (AP) — The Latest on President Donald Trump (all times local):
1 p.m.
President Donald Trump says the United States must have the best, fastest and most reliable infrastructure in the world.
Trump is in Cincinnati to talk about a specific piece of his infrastructure plan: inland waterways and the need to repair aging levees, dams, locks and ports.
In excerpts of his remarks released by the White House, Trump is expected to say that inland waterways are critical to commerce, but currently depend on a dilapidated system.
He says that's why he's pushing a plan to pay for infrastructure improvements with $200 billion in tax breaks that he hopes will leverage $1 trillion worth of construction over time.
Trump says an $8.7 billion maintenance backlog for waterways is only getting worse.
__
12:40 p.m.
President Donald Trump has arrived in Cincinnati to discuss health care and his infrastructure plan.
The president is expected to meet first with people described by the White House as "victims" of the Obama-era health law that Trump and congressional Republicans want to repeal.
Trump has been highlighting increasing premiums and insurance company pull-outs from the law's exchanges as he pushes a GOP replacement plan.
The president also plans a speech on his push to spur infrastructure investments using public-private partnerships.
___
11:55 a.m.
A White House official says President Donald Trump plans to give a speech next week to address worker training programs.
An assistant to the president, Reed Cordish, says the speech will touch on issues such as apprenticeships and community colleges to develop workers' skills in order to increase hiring and job growth. Trump is slated to deliver the speech at the Labor Department on Wednesday, June 14.
At a panel hosted by the Business Roundtable on Wednesday, Cordish said the problem wasn't a lack of government funding for worker training but ineffective programs. He declined to give policy specifics about the speech, except to say that "administrative" steps would be involved and that the president's daughter Ivanka Trump would be part of the initiative.
___
10:25 a.m.
President Donald Trump is defending his tweeting habit despite complaints from some Republicans that the president's practice can be a distraction.
That's the word from Republican Rep. Lee Zeldin of New York who says Trump raised the issue unprompted at a White House dinner Tuesday night with several GOP senators and House members.
Zeldin told reporters that Trump upheld his tweeting.
Zeldin said Wednesday that the president "definitely believes that the tweets are an important, valuable tool to be able to get out his message over and through mediums when there might be another narrative that's out there that might be a different perspective than what he's trying to get out."
Zeldin says Trump "wasn't like on his heels defensive, but he was talking about it being valuable."
___
3:15 a.m.
President Donald Trump will discuss his plans for a $1 trillion overhaul of the nation's crumbling roads, bridges and waterways during a speech in Ohio Wednesday.
The president will deliver remarks at the Rivertowne Marina in Cincinnati. He's expected to press efforts to repair the nation's aging levees, dams, locks and ports, as well as his larger infrastructure aims.
The speech comes as the White House tries to push past a series of distractions and focus on Trump's legislative agenda.
The White House has yet to detail specifics of the plan, but hopes to finance improvements using public-private partnerships.