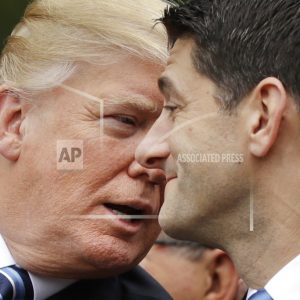 WASHINGTON (AP) — The Latest on President Donald Trump and Republicans (all times local):
8:10 a.m.
President Donald Trump is touting a primary opponent looking to unseat GOP Sen. Jeff Flake of Arizona, who has criticized the president's response to the violence and death of a woman in Charlottesville, Virginia.
Trump on Thursday tweeted that Flake "is WEAK on borders, crime and a non-factor in Senate. He's toxic!" The president has already pledged to spend money to defeat the first-term senator.
Flake is facing a GOP primary challenge, including from former state Sen. Kelli Ward. "Great to see that Dr. Kelli Ward is running against Flake," Trump tweeted.
Flake had tweeted on Wednesday, "We can't claim to be the party of Lincoln if we equivocate in condemning white supremacy."
The first-term senator has also recently released a book criticizing Trump and fellow Republicans for straying from what he called conservative values.
___
6:20 a.m.
President Donald Trump has taken a swipe at a fellow Republican, calling Sen. Lindsey Graham a "publicity seeking" lawmaker.
In a daybreak post on his Twitter account Thursday, Trump faulted the GOP senator for statements Graham has made about the president's stance on the violence and death of a woman in Charlottesville, Virginia.
Trump said in his tweet: "Publicity seeking Lindsey Graham falsely stated that I said there is moral equivalency between the KKK, neo-Nazis & white supremacists and people like Ms. Heyer." He was referring to Heather Heyer, the woman who was killed when she was struck by a car driven into the crowd.
"Such a disgusting lie," Trump said of Graham's remarks. "He just can't forget his election trouncing. The people of South Carolina will remember."
In a separate tweet, Trump accused "the Fake News" of distorting "what I say about hate, bigotry, etc. Shame!"
___
3:18 a.m.
One after another, the nation's most powerful Republicans responded to President Donald Trump's extraordinary remarks about white supremacists. Yet few mentioned the president.
The Senate's top Republican, Majority Leader Mitch McConnell, condemned "hate and bigotry." House Speaker Paul Ryan charged that, "White supremacy is repulsive." Neither criticized the president's insistence that there were "very fine people on both sides" of a violent weekend clash between white supremacists and counterdemonstrators.
The nuanced statements reflect the party establishment's delicate dance. Few top Republican officeholders defended the president in the midst of an escalating political crisis. Yet they are unwilling to declare all-out war against Trump and risk alienating his loyalists. And as the 2018 elections begin to take shape, the debate over Trump's words appears to be taking hold in GOP primaries.