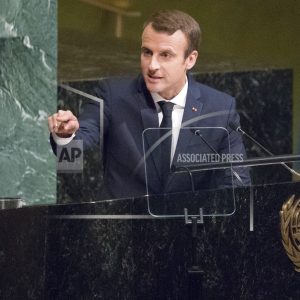 UNITED NATIONS (AP) — The Latest on the U.N. General Assembly (all times local):
1:13 p.m.
France's President Emmanuel Macron is forcefully defending the Paris climate accord, telling the U.N. General Assembly that although it can be improved, "it will not be renegotiated."
In a half-hour speech Tuesday, Macron said he "profoundly respects" U.S. President Donald Trump's decision to withdraw from the accord, adding that "the door will always be open to them."
Macron said the planet "is taking its revenge on the madness of man."
He said the Paris accord will not be renegotiated, adding that it can be enriched with new contributions, "but we won't go back."
___
12:35 p.m.
Nigerian President Muhammadu Buhari says the United Nations needs to keep providing sufficient funding for peacekeeping operations, which have been coming under scrutiny.
Buhari address to the General Assembly on Tuesday was his first trip outside Nigeria since he returned from August after three months away for medical treatment.
Twice this year, the 74-year-old president has spent several weeks in London for an undisclosed ailment. He stood steadily on the podium while delivering his roughly 12-minute speech.
Buhari says the international community needs to work together to stop Islamic State extremist fighters from infiltrating into areas of Africa's Sahel region where "response capacity is weak." He says the U.N. must provide "adequate funding" and other support to regional initiatives and peacekeeping operations "in a predictable and sustainable manner."
___
12:05 p.m.
Brazilian President Michel Temer is raising eyebrows with his claim at the U.N. that deforestation in the Amazon declined 20 percent the last year.
Temer made the statement Tuesday while addressing the U.N. General Assembly.
Annual deforestation in the Amazon is tracked by Brazil's National Institute of Spatial Research, which has not yet released data for the August-July fiscal year.
In 2015-2016, the most recent available data, the Amazon was cut at the fastest rate since 2008. That represents nearly 3,100 square miles (8,000 square kilometers) of chopped forest.
Jaime Gesisky, of the environmental group WWF Brazil, says Temer's claim amounts to "empty words" without numbers to back it up. Gesisky also says that even if there was a drop compared to the previous year, claiming a reduction is disingenuous since the overall context is increased cutting.
___
11:50 a.m.
French President Emmanuel Macron says he isn't about to quit trying to convince President Donald Trump to reverse himself on his decision to exit the climate accords — and thinks he will succeed.
Macron said ahead of his speech to the U.N. General Assembly on Tuesday that "I deplore the American decision, but I continue to dialogue with President Trump because I'm convinced that in the end he will understand that his interest, the interest of Americans, is in the Paris Accord."
Trump has said the climate deal was unfair to U.S. business.
Macron tried to convince him to change his mind during Trump's July visit to Paris. Trump was noncommittal then, saying that "if it happens that will be wonderful, and if it doesn't that will be OK, too."
___
11:05 a.m.
Brazilian President Michel Temer says the U.N. has represented "hope and prospects for a more just world" for the last 70 years and is needed now more than ever.
In an opening speech Tuesday to the General Assembly, Temer says that "in this time in history marked by so much uncertainty and instability, we need more diplomacy — not less."
But Temer said it is imperative to reform the U.N., particularly to expand the powerful Security Council to align it with the reality of the 21st century. Brazil is part of a group with Germany, India and Japan seeking permanent seats on the council.
Temer's U.N. appearance comes after a difficult week for him at home, when he was charged with obstruction of justice and leading a criminal organization. On Monday, he dined with U.S. President Donald Trump and other Latin American leaders to discuss the situation in Venezuela.
___
10:25 a.m.
The head of the U.N. General Assembly is painting a somber picture of the world and urging more focus on preventing conflict as debate begins at the annual meeting of global leaders.
Assembly President Miroslav Lajcak said Tuesday that many people have become disillusioned with the U.N. in a world grappling with conflict, poverty, terrorism and global warming. But, he adds, others believe in the U.N.'s potential to help.
Lajcak says the U.N. needs to put more emphasis on warding off conflicts, rather than reacting to them. The Slovakian says that means "recalibrating" to respond better to crises, not seeking more money or help from member countries.
He's also calling for a more people-centered approach in dealing with terrorism and what he calls the "highly divisive" issue of migration.
___
9:15 a.m.
U.N. Secretary-General Antonio Guterres is warning the world's leaders that the threat of a nuclear attack is at its highest level since the end of the Cold War and "fiery talk can lead to fatal misunderstandings."
In his first state-of-the-world report since taking the reins of the United Nations on Jan. 1, Guterres put "nuclear peril" as the leading threat, warning that "we must not sleepwalk our way into war."
The U.N. chief told Tuesday's opening of the General Assembly's annual ministerial meeting that millions are living in fear "under a shadow of dread cast by the provocative nuclear and missile tests" of North Korea.
His message on "fiery" rhetoric was implicitly directed at North Korean leader Kim Jong Un, but also at the United States and President Donald Trump, who has warned of "fire and fury" if North Korea does not back down.
Guterres said a solution to the North Korea nuclear threat must be political and stressed to leaders: "This is a time for statesmanship."