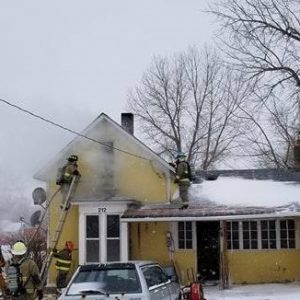 At 10:22am December 6th, 2017, Battle Creek Fire Department was dispatched to a report of a structure fire at 212 Vilas St in Hermosa South Dakota.  Upon arrival, it was reported heavy smoke was showing.
Due to the unfavorable weather and road conditions a 2nd alarm was called for manpower.  When crews arrived, they were notified that it was unclear that all occupants had made it out.  At 11:15am crews discovered a deceased victim.
The identity of the victim has not yet been released pending investigation.  The American Red Cross was contacted to assist the family members.
Several agencies responded ranging from Pennington county, Hermosa Town Marshall, Custer County Sheriff, Keystone Ambulance, Custer County Emergency Management, as well as the South Dakota state Fire Marshall. The damage was confined to the structure of origin.
No personnel on the scene were injured.  Cause if the fire is still under investigation and will be made available when the investigation is complete.
From: Pennington County Fire