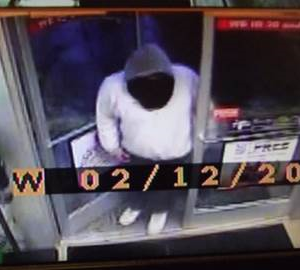 At around 2:50 a.m. on February 12th, Rapid City Police were dispatched to the Loaf 'N Jug at 3106 W. Main Street for a report of a robbery. Police made contact with an employee of the business who told police he was stocking shelves when an unknown male subject entered the business, pointed a pistol at him, and demanded money.                                                                   The employee complied, and the suspect left the business with an undisclosed amount of cash.                                                             The suspect is described as a stocky male wearing a grey sweatshirt, black scarf, black pants, and white shoes.
Anyone with any information about the incident or the identity of the suspect is encouraged to contact Detective Rick Arlaud at 394-4134. They can also send an anonymous tip by texting 'RCPD' and the information to 847411.
Photo/Information from RCPD Press Release.