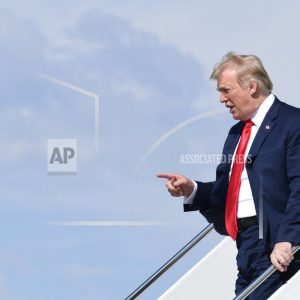 FARGO, N.D. (AP) — The Latest on President Donald Trump (all times local):
11:55 a.m.
President Donald Trump says special counsel Robert Mueller's investigation is — in Trump's words —"really, really unfair" for the upcoming elections in November, when control of Congress is at stake.
Trump says "we have to get it over with" and he's suggesting that the investigation into Russian election interference "should have been over with a long time ago."
Trump made his comments Friday to reporters traveling with him on Air Force One to Fargo, North Dakota.
The president says it would "need to be a fair deal" for him to sit down for an interview with Mueller's investigators. The special counsel and Trump's legal team have been negotiating a possible interview for months.
___
12:20 a.m.
President Donald Trump is praising Brett Kavanaugh's progress toward winning confirmation to the Supreme Court.
But Trump isn't happy with the "anger and the meanness on the other side" — and says Democrats' behavior toward his nominee is "sick."
The president made the comments during a political rally Thursday in Billings, Montana.
He also raised the prospect of a move toward impeachment if Democrats win control of Congress in the November elections.