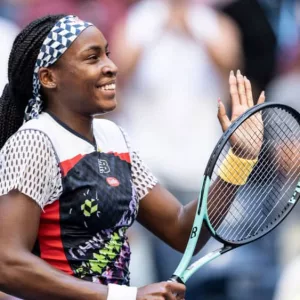 19-year-old Coco Gauff dominated fellow teenager Mirra Andreeva, 16, in straight sets 6-3, 6-2 on Wednesday to advance into the third round of the US Open. Gauff has now advanced to the third round for the second consecutive year at the U.S. Open.
Said Gauff during her on-court interview: "I think that I'm capable of winning when I'm not playing my best, even in the first round I wasn't playing my best and I was able to get through that one and today I played much cleaner tennis." Gauff added: "I have to enjoy this if I want to maintain a long career, I have to really have fun on the court and I think I'm having fun with the wins and losses."
The second-round match at Arthur Ashe Stadium and Gauff on Wednesday was played under sweltering sun and heat, and Gauff said she was comfortable in the weather, due to her home being in South Florida: "I'm just used to the heat; I'm used to sweating. I'm soaked, I had to go to the towel a lot to just wipe my hands off."
Gauff will face No. 32 seed Elise Mertens in the third round. Mertens saved two match points en route to winning in three sets 3-6, 7-6 (7), 6-1 over American Danielle Collins.
Editorial credit: lev radin / Shutterstock.com