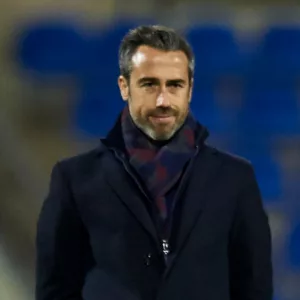 Spain's women's soccer coach Jorge Vilda has been fired amid the fallout over the unwanted kiss on the lips that soccer chief Luis Rubiales gave a player at the Women's World Cup final.  The firing was announced by Pedro Rocha, who is serving as interim president amid Luis Rubiales' hiatus. The move comes as part of a shake-up in Spanish soccer ever since Rubiales, the president of the country's soccer federation (RFEF), forcibly kissed forward Jennifer Hermoso on August 20th.
Rubiales apologized for his actions, describing the kiss as "mutual"; however, Hermoso denied his claims. Rubiales was given a 90-day suspension by FIFA while disciplinary proceedings are underway. In a statement, Rocha issued an apology and criticized Rubiales for "totally unacceptable behavior … The damage caused to Spanish football, Spanish sport, Spanish society and to the set of values of soccer and sport has been enormous. The [federation] wants to transmit, to the whole of society and to the whole of football world, its greatest regret for what happened, which has tarnished our team, our football and our society."
Vilda had been the women's national team coach since 2015. RFEF said in a statement regarding Villa's firing that aid he was "key to the notable growth of women's football and leaves Spain as world champions and second in the FIFA rankings," adding that  "RFEF appreciates his work at the head of the national team and his responsibilities as the maximum sporting figure of the women's national teams, as well as the successes reaped during his term, crowned with the recent achievement of the World Cup." Vilda was praised for his "impeccable personal and sporting conduct" and as a "key part of the notable growth of women's football in Spain," describing him as "a promoter of the values of respect and sportsmanship in football." Vilda, who previously coached Spain's under-17 and under-19 women's teams, led La Roja to a first Women's World Cup title last month with a 1-0 victory against England in the final.
The federation described the move as "one of the first measures of restructuring announced by (interim) President Pedro Rocha." RFEF also announced Vilda would be replaced by his deputy, Montse Tomé, making her the first woman in charge of the women's national team. Her debut match will come on September 22 against Sweden.
Editorial credit: Jose Breton- Pics Action / Shutterstock.com