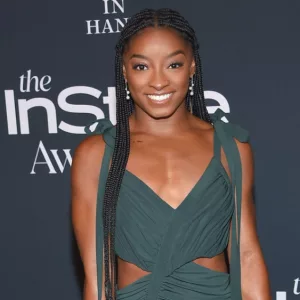 Simone Biles, the greatest women's gymnast of all-time, is planning to compete in the 2024 Paris Olympics. The gymnast acknowledged for the first time on an appearance on the TODAY Show that she aims to compete at the 2024 Olympics. Biles, 26, told 'Today' show host Hoda Kotb on Thursday morning that if Kotb were to wager $5 on whether she's planning on returning to Olympic competition when the Games are in Paris in 2024, it wouldn't be a bad bet. Said Biles: "Right now, I would say that's the path I would love to go, so I wouldn't mind if you put it in the 'yay' section." 
Biles competed in the 2020 Tokyo Olympics (which were held in 2021 due to the COVID-19 pandemic), but once she arrived, she experienced 'the twisties.'  The twisties is a psychological issue where a gymnast loses track of the ground when they're flying through the air — and if a gymnast loses track of the ground while in the air, they have no idea when to land, safely or otherwise, and can result in serious injuries. Biles chose to withdraw from both the team competition and the individual all-around competition to focus on her mental health, winning a silver medal as part of the team competition, and an individual bronze medal on the balance beam.
Biles is on her way to a spot on the U.S. women's gymnastics team. At her first competition since the Tokyo Games at the 2023 U.S. Gymnastics Championship, Biles claimed a historic eighth all-around title. But she told Kotb that she was still taking it slowly: "Everything leading up to these next Games is very intentional. I've been playing it on the down-low this time, making sure mentally and physically are both intact … There were times when I would come in the gym and I would be like 'you know what, no, I don't think this is going to work' and then I was like 'no, I'm going to give it another day. As long as I showed up for another day and kept putting that work in, then it kind of went down and dwindled." 
The 2024 Olympic Games are scheduled to begin Paris on July, 26, 2024 through August 11, 2024.
Editorial credit: DFree / Shutterstock.com